Hotels near Middleham Castle
1
The Blue Lion
Leyburn - 1.5 miles away
Offering an 'utterly authentic' slice of rural Wensleydale hospitality, Paul and Helen Klein have been running their 'sophisticated' 18th-century inn for 30 years.
2
Stow House
Aysgarth - 7 miles away
Phil and Sarah Bucknall's stone-built Victorian rectory is on the edge of the village, with the green sweep of the Yorkshire Dales all around.
3
Easby Hall
Richmond - 9 miles away
On a country lane outside Richmond, this stone-built Georgian house is the stuff rural ruminations are made of.
4
The Frenchgate Restaurant & Hotel
Richmond - 9 miles away
A Georgian town house and its 17th-century neighbour combine as a characterful hotel and restaurant, in a lovely town in Dales countryside.
5
Cambridge House
Reeth - 9 miles away
'Marvellous hosts' Robert and Sheila Mitchell offer 'perfect comfort' at their Swaledale B&B, on the outskirts of a rural village surrounded by far-reaching countryside panoramas.
6
The Hack & Spade
Richmond - 12 miles away
In a hamlet west of Scotch Corner, this B&B was formerly a tiny Georgian ale house, which grew into a Victorian pub for labourers from the limestone quarry.
7
Low Mill Guest House
Leyburn - 12 miles away
Spending a night on a riverbank, in an 18th-century watermill, with Wensleydale's gentle hills all around: what could be more restorative for the soul? This 'wonderful guest house' has been renovated by Neil and Jane McNair with flair and imagination.
8
Yorebridge House
Bainbridge - 12 miles away
There's no cause for truancy at this former Victorian school and headmaster's house, in a pretty Dales village on the River Ure.
9
The Coach House at Middleton Lodge
Richmond - 13 miles away
Minutes from the motorway, this Georgian estate feels deeply rural, with its walled garden and hundreds of acres to explore.
10
Grassington House
Skipton - 17 miles away
Overlooking the cobbled square in one of the most attractive Dales villages, this smart restaurant-with-rooms combines chic bedrooms and creative food with a warm Yorkshire welcome.
11
Clow Beck House
Croft-on-Tees - 17 miles away
The personal welcome, horizon-stretching views, homely touches and feeling of space make this former farmhouse a relaxing place to stay.
12
Headlam Hall

- Autumn Gold Special Offer from £85 per person per night
Darlington - 20 miles away
This country hotel ticks all the boxes – historic building, beautiful gardens, smart bedrooms, relaxed dining, spa and pool – while retaining a homely feel.
Hotels not in the Guide that you may want to consider
There is no GHG selected hotel within this 20 mile radius, these hotels are nearby
Hotels near Middleham Castle
1
The Bijou
Harrogate - 22 miles away
Within easy walking distance of the town centre and railway station, this small B&B in a Victorian villa tempts with an honesty bar, pleasant front garden; private parking is an added bonus.
2
The Grafton Boutique B&B
Harrogate - 23 miles away
In a quiet, leafy street, ten minutes' walk from the centre, this imposing, double-fronted Victorian house has welcoming, helpful hosts, contemporary rooms and plentiful breakfasts.
3
Rudding Park
Harrogate - 25 miles away
In 300 acres of parkland originally laid out by landscape designer Humphry Repton, this welcoming and romantic Grade I listed Regency mansion comes with impressive modern facilities. There are two golf courses, a private cinema and an award-winning rooftop spa with saunas, steam rooms, an infinity pool and herb-infused treatments. Sleek accommodation ranges from suites (some with a private terrace) in contemporary wings, to cottages and lodges. Inspired by the seasons – creative dishes are 'exceptionally good' in the glass-sided spa restaurant, Horto. Vegetables, fruit and flowers come from the delightful kitchen garden; the hotel's natural springs supply the water. In the glamorous Clocktower Restaurant and Bar, a 400-year-old Catalonian olive tree takes centre stage in the light-filled conservatory.
4
Feversham Arms Hotel & Verbena Spa
Helmsley - 30 miles away
In this picturesque market town, a much-extended, 19th-century coaching inn has been endowed with light and airy communal spaces, and a spa with revitalising heat treatments and an outdoor pool. The cosy lounge has a wood fire, plumped cushions on comfy sofas; books and board games. Bedrooms vary greatly in size and style. Suites in the main house have a sitting area or a separate sitting room; the smallest rooms face the street. Inspired by seasonal Yorkshire produce, à la carte menus are served in the high-ceilinged conservatory restaurant, Weathervane, or al fresco on the poolside terrace in summer months.
From £90 per night
5
Dakota Deluxe Leeds
Leeds - 35 miles away
Dark colours and artful lighting lend a moody atmosphere to this sleek hotel in central Leeds. Grills are a speciality in the basement restaurant; a wide selection of cocktails, wines snacks and light plates are served in the glamorous bar.
6
Quebecs
Leeds - 35 miles away
A luxury hotel in the centre. The grand Grade II listed Victorian red brick building (formerly the Leeds and County Liberal Club) has wood-panelled walls, stained glass windows and an elegant winding staircase leading to classically-styled bedrooms. The Porter's Lodge Bar & Lounge serves light snacks, lunch, afternoon tea and supper.
7
Gisborough Hall
Guisborough - 36 miles away
Grand, and grandly welcoming, this creeper-covered Victorian mansion stands in a spread of green grounds on the edge of the North York Moors.
8
Oulton Hall
Leeds - 40 miles away
Occupying an 18th-century mansion this large hotel (part of QHotels group) sits in beautifully landscaped gardens, SE of Leeds. It has a spa, conference and wedding facilities, and a 27-hole championship golf complex in its grounds. Leeds train station is 5 miles away.
JOIN THE GHG CLUB
Get our free monthly newsletter, latest special offers, advice & competitions. Join more than 5,500 other members.
Read more about it here
BUY THE 2021 GUIDE
Buy the 2021 Guide to read reviews of all 750 hotels. Each printed copy of the Guide contains six 25% discount vouchers, worth in total about £150.
Buy the guide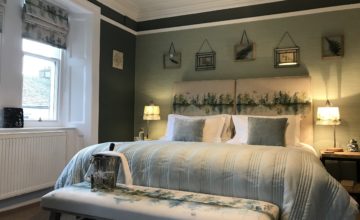 Win A Free Night for Two!
Win a prize of dinner, bed and breakfast for two at The Black Swan, Ravenstonedale, Cumbria, by SENDING A REVIEW of your favourite hotel or B&B in Britain or Ireland. See COMPETITION PAGE.
Submit a review