Hotels near Stadium of Light, Sunderland
1
Seaham Hall

- 'Enchanting Autumn Escape' Special Offer
Seaham - 4.9 miles away
'A wonderful place', this Georgian mansion with a pedigree (Lord Byron was married to Anne Isabella Millbanke in the drawing room) stands in landscaped gardens overlooking Durham's heritage coast.
Hotels not in the Guide that you may want to consider
There is no GHG selected hotel within this 5 mile radius, these hotels are nearby
Hotels near Stadium of Light, Sunderland
1
Grey Street Hotel
NEWCASTLE-UPON-TYNE - 10 miles away
A former bank, the Georgian building (Grade II listed) has a handsome array of arched windows, ornate stonework and pediments. Inside, the hotel is modern, enlivened with bright splashes of colour. Stylish and dog-friendly bedrooms have high ceilings, a lap top safe and tea- and coffee-making facilities. Beauty treatments are available. No on-site dining at the moment, but a 'Grab and Go' breakfast bag is offered, and nearby bars and restaurants are plentiful. On one of the city's finest streets (some traffic noise), the railway station, metro and quayside are all a short walk away.
2
Gisborough Hall
Guisborough - 29 miles away
Grand, and grandly welcoming, this creeper-covered Victorian mansion stands in a spread of green grounds on the edge of the North York Moors.
3
Aln House Bed & Breakfast
Alnwick - 36 miles away
A ten-minute walk from the town centre, this pristine B&B in an Edwardian villa has comfortable bedrooms, a light-filled lounge and breakfast room, and off-road parking at the front. For breakfast, a selection of fruit juices, cereals, dried and fresh fruits and yoghurt is followed by cooked to order dishes – maybe a full Northumbrian (dry cured bacon, sausage, black pudding, grilled tomato, mushrooms and a choice of free range eggs). The friendly hosts offer plenty of tips for days out in the area and where to eat nearby.
4
Raithwaite Estate
Whitby - 41 miles away
A short walk from the coast, this collection of buildings nestles in 100 acres of gardens and woodland. Choose to stay in The Hall, The Keep, the six-bedroom private Lake House or one of the stone-built cottages. The luxury spa has four treatment rooms, a relaxation room, heated pool, jacuzzi, steam room, sauna and small gym.
5
Victoria Hotel
Whitby - 43 miles away
On a clifftop, this comfortable, old-style hotel affords glorious coastal views over Robin Hood's Bay.
JOIN THE GHG CLUB
Get our free monthly newsletter, latest special offers, advice & competitions. Join more than 5,500 other members.
Read more about it here
BUY THE 2021 GUIDE
Buy the 2021 Guide to read reviews of all 750 hotels. Each printed copy of the Guide contains six 25% discount vouchers, worth in total about £150.
Buy the guide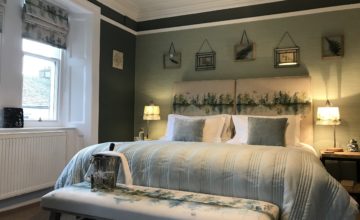 Win A Free Night for Two!
Win a prize of dinner, bed and breakfast for two at The Black Swan, Ravenstonedale, Cumbria, by SENDING A REVIEW of your favourite hotel or B&B in Britain or Ireland. See COMPETITION PAGE.
Submit a review