Christmas is an increasingly popular time for hotel breaks, so whether you're planning to celebrate Christmas in Dorset quietly or with a bang, here are our recommended hotels for the festive period.
Featured hotels with Special Offers
Hotels for Christmas in Dorset
1
The Priory

- Staycation Three Nights for the Price of Two Special Offer
Wareham
A lunch filled with festive classics and Christmas eve settling into your cosy surroundings - it's all about the senses at The Priory Wareham.
2
The Eastbury Hotel & Spa

- Perfect Getaway Special Offer
Sherborne
Fun, food and relaxation await at The Eastbury on a Christmas festive break.
3
The Green House

- £50 Per Room Per Night Sunday Special Offer
Bournemouth
Christmas at The Green House is about delicious, eco friendly luxury - think blankets, mulled wine, cider, hot chocolate and excellent food.
More best Christmas hotels in Dorset
Hotels for Christmas in Dorset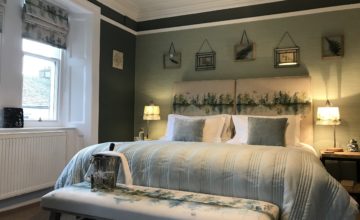 Win A Free Night for Two!
Win a prize of dinner, bed and breakfast for two at The Black Swan, Ravenstonedale, Cumbria, by SENDING A REVIEW of your favourite hotel or B&B in Britain or Ireland. See COMPETITION PAGE.
Submit a review
BUY THE 2021 GUIDE
Buy the 2021 Guide to read reviews of all 750 hotels. Each printed copy of the Guide contains six 25% discount vouchers, worth in total about £150.
Buy the guide
JOIN THE GHG CLUB
Get our free monthly newsletter, latest special offers, advice & competitions. Join more than 5,500 other members.
Read more about it here