Christmas is an increasingly popular time for hotel breaks, so whether you're planning to celebrate Christmas in Midlands quietly or with a bang, here are our recommended hotels for the festive period.
Featured hotels with Special Offers
Hotels for Christmas in Midlands
1
The Lygon Arms

- Three Nights for the Price of Two Special Offer
Broadway
A coaching inn dating back to the 1300s, The Lygon Arms is all about log fires, vaulted ceilings and ancient wood panelling - perfect for Christmas!
2
Hambleton Hall

- 40th Anniversary Weekday Stay Special Offer
Oakham
With log fires and spectacular Christmas trees, this magical country house hotel is perfect for Christmas and New Year.
3
The George of Stamford

- Sumptuous Sundays Special Offer
Stamford
Festive parties and sumptuous food and drink abound at this 17th century historic house with breathtaking sea views at Christmas.
From £195.00 per night
4
Lords of the Manor

- One Night Complimentary Special Offer
Upper Slaughter
A Cotswold Christmas would not be complete without the perfect country house to spend it in.
5
The Cavendish

- Four Nights for the Price of Three Special Offer
Baslow
The Cavendish marries a sense of grandeur with the warm welcome of a boutique hotel. Exquisite food is the order of the day, while luxurious furnishings add a sense of plush decadence as well.
6
Mallory Court

- 'Warwickshire Escape' Four Nights for the price of Three Special Offer
Leamington Spa
Mallory Court is a four-star hotel and a member of the Relais and Châteaux group, which means you know when you visit you're in for a superb treat, especially when it comes to food at Christmas.
7
Tudor Farmhouse

- Three Nights for the Price of Two Special Offer
Clearwell
A quintessential country hideaway with the magic of the Forest of Dean. A festive break at Tudor Farmhouse is filled with everything magical.
8
The Broadway Hotel

- Cotswold Midweek Offer: Four Nights for the Price of Three
Broadway
For a Cotswold Christmas, The Broadway Hotel is a home away from home. Providing superb food and a warm welcome.
9
The Cottage in the Wood

- Festive Season Special Offer
Malvern wells
At Christmas they include a range of packages to really help you celebrate the season. It includes fine dining with a five-course lunch on Christmas Day, welcome cocktails on Christmas Eve, a Bucks Fizz breakfast and lots of seasonal decorations.
10
The Swan

- Stay and Save (up to 25%) Special Offer
Bibury
The Swan at Bibury pulls out all the stops at Christmas time, for a Cotswold Christmas full of fabulous festivities, food and fizz.
More best Christmas hotels in Midlands
Hotels for Christmas in Midlands
Hotels not in the Guide that you may want to consider
Hotels for Christmas in Midlands
1
The Castle Hotel
Lincoln
On the site of the Roman Forum, this sleek Bailgate area hotel is 'superbly' located between cathedral and castle. Comfortable, compact bedrooms in the main building, modishly decorated in earthy hues, overlook the castle walls or have views of the medieval cathedral. Courtyard rooms are in the peaceful 250-year-old coach house, all conveniently on the ground floor, with parking just outside.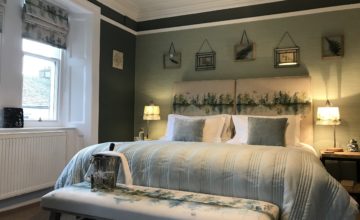 Win A Free Night for Two!
Win a prize of dinner, bed and breakfast for two at The Black Swan, Ravenstonedale, Cumbria, by SENDING A REVIEW of your favourite hotel or B&B in Britain or Ireland. See COMPETITION PAGE.
Submit a review
BUY THE 2021 GUIDE
Buy the 2021 Guide to read reviews of all 750 hotels. Each printed copy of the Guide contains six 25% discount vouchers, worth in total about £150.
Buy the guide
JOIN THE GHG CLUB
Get our free monthly newsletter, latest special offers, advice & competitions. Join more than 5,500 other members.
Read more about it here