Hotels in Ambleside
1
Rothay Manor

- Stay and Save Special Offer
Ambleside
Jamie and Jenna Shail's manor house hotel dates to 1823, but its tastefully refreshed style and ambitious cooking place it squarely in the 21st century.
2
Cuckoo Brow Inn

- Three Night 15% Discount Special Offer
Ambleside
The views stretch over lakeland countryside from this unpretentious 18th-century inn, atop a hill in a pretty village between Lake Windermere and Hawkshead.
3
Ees Wyke Country House
Ambleside
More guest house than hotel, this Georgian country house overlooking Esthwaite Water has the feel of a comfortable family home, a bit lived-in – and what an outlook.
4
Riverside Bed & Breakfast
Ambleside
On a quiet lane, opposite a 'delightful, babbling' river, Richard and Diney Standen's 'superior' B&B is an 'easy and pleasant' walk from Ambleside.
5
The Yan at Broadrayne
Ambleside
'Refreshingly different.
JOIN THE GHG CLUB
Get our free monthly newsletter, latest special offers, advice & competitions. Join more than 5,500 other members.
Read more about it here
BUY THE 2021 GUIDE
Buy the 2021 Guide to read reviews of all 750 hotels. Each printed copy of the Guide contains six 25% discount vouchers, worth in total about £150.
Buy the guide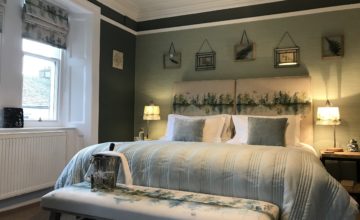 Win A Free Night for Two!
Win a prize of dinner, bed and breakfast for two at The Black Swan, Ravenstonedale, Cumbria, by SENDING A REVIEW of your favourite hotel or B&B in Britain or Ireland. See COMPETITION PAGE.
Submit a review