Hotels in Mallorca
1
Petit Hotel Ses Rotges
Cala Ratjada
In a village on the north-east tip of Mallorca, this much-admired restaurant-with-rooms is run by the 'delightful' French owner/chef, Gérard Tétard, with his wife, Laurence and their son William.
2
Ca's Xorc
Soller
'The food and setting were superb,' says a visitor to this former olive mill located in the Serra de Tramuntara mountains near Sóller and its 'Port'.
3
Ca'n Reus
Fornalutx
In an attractive village, with cobbled streets and tiled rooftops, surrounded by orange and lemon groves, this 300-year-old house has been run since 2003 as a small rural hotel.
4
Hotel Bonsol
Illetas
On a pine-covered hillside overlooking Palma bay, this large holiday hotel, with mock-Moorish tower, is managed by its owners, Lorraine and Martin Xamena and their son Alejandro.
5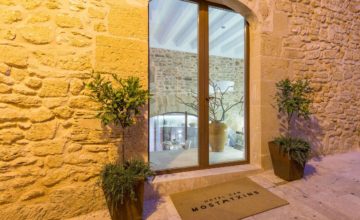 Hotel Can Mostatxins
Alcudia
Once a place for pressing olives, this luxurious little hotel is set in the walls of the Old Town.
Beaches, villages and mountains
The largest of the Balearic Islands, Mallorca has moved away from mass-market tourism to being seen as a sophisticated, glamorous destination, particularly in the north. Many hotels are in restored farmhouses and set in lemon and orange orchards, but there are also some incredible properties next to the sea.
Apart from its great beaches, the island also offers great cycling routes, hiking on its mountain range, the Sierra de Tramuntana, and interior villages well worth exploring.
There are also six Michelin-starred restaurants on the island, and local wines on offer. In spring, the island is carpeted in almond blossoms ("Mallorca's snow") and in summer months, the island is in fiesta mode. Read more about some of the great hotels in Mallorca.
JOIN THE GHG
Get our free monthly newsletter, latest special offers, and updates. Join more than 14,000 other members.
Read more about it here
BUY THE 46th EDITION OF THE GUIDE
Buy the 46th Edition of the Guide to read reviews of 650 hotels.
Please note that the print edition no longer contains discount vouchers. 
Buy the guide