Top lord and lady of the manor hotels
1
Chewton Glen

- 3 Nights for the Price of 2 Special Offer
New Milton
Readers are 'unable to fault anything at all' at this ivy-clad country house hotel on the edge of the New Forest, 'the ultimate luxurious and indulgent treat'.
2
Gravetye Manor
East Grinstead
Jeremy and Elizabeth Hosking's beloved and beautiful Elizabethan manor house stands in glorious gardens, amid 1,000 acres of woodland.
3
The Pig at Combe
Honiton
The Empress of Blandings among Robin Hutson's Pig hotels (see index), this honey-stone Elizabethan manor house in the Otter valley is reached by a mile-long carriage drive.
4
Langar Hall
Langar
A linden avenue leads to this apricot-washed Georgian mansion in parkland, beside St Andrew's 
church in a Vale of Belvoir village, with a river running through.
5
Newforge House
Magheralin
In mature gardens and 50 acres of pasture on the edge of the village, Louise and John Mathers's creeper-clad Georgian mansion is an elegant home from home.
6
Glenapp Castle
Ballantrae
With sweeping views of Ailsa Craig and the Mull of Kintyre, Paul and Poppy Szkiler's Scottish Baronial-style castle hotel balances a 'stunning, grand building' with 'relaxed luxury'.
7
Farlam Hall
Brampton
Despite a change of ownership, this quintessential country house hotel in a peaceful Cumbrian village is still in safe hands, report readers.
JOIN THE GHG CLUB
Get our free monthly newsletter, latest special offers, advice & competitions. Join more than 5,500 other members.
Read more about it here
BUY THE 2021 GUIDE
Buy the 2021 Guide to read reviews of all 750 hotels. Each printed copy of the Guide contains six 25% discount vouchers, worth in total about £150.
Buy the guide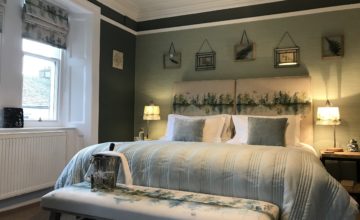 Win A Free Night for Two!
Win a prize of dinner, bed and breakfast for two at The Black Swan, Ravenstonedale, Cumbria, by SENDING A REVIEW of your favourite hotel or B&B in Britain or Ireland. See COMPETITION PAGE.
Submit a review