Hotels in Belfast
1
Ravenhill House
Belfast
A short bus ride from the city centre, this handsomely restored red-brick B&B is close to popular restaurants, shops and a leafy park.
2
The Old Rectory
Belfast
In a leafy suburb, a short bus ride from the centre, Mary Callan makes visitors to her Victorian guest house feel 'very welcome'.
JOIN THE GHG CLUB
Get our free monthly newsletter, latest special offers, advice & competitions. Join more than 5,500 other members.
Read more about it here
BUY THE 2021 GUIDE
Buy the 2021 Guide to read reviews of all 750 hotels. Each printed copy of the Guide contains six 25% discount vouchers, worth in total about £150.
Buy the guide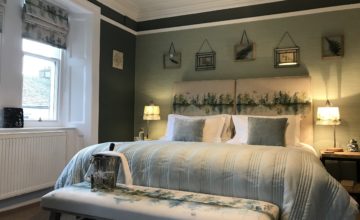 Win A Free Night for Two!
Win a prize of dinner, bed and breakfast for two at The Black Swan, Ravenstonedale, Cumbria, by SENDING A REVIEW of your favourite hotel or B&B in Britain or Ireland. See COMPETITION PAGE.
Submit a review