Hotels in isle of islay
1
Bridgend Hotel
Isle of Islay
There's whisky galore on the Inner Hebrides island of Islay; bonhomie in the bar of this friendly hotel.
2
Loch Gorm House
Isle of Islay
On this southernmost island of the Inner Hebrides, 'friendly, helpful' hostess Fiona Doyle runs her 'clean, comfortable' B&B in a stone-built house, steps from the shores of Loch Indaal.
3
Glenegedale House
Isle of Islay
A slice of home baking greets arriving guests at Graeme and Emma Clark's much-praised island guest house, which stands in large gardens against a vista of the Mull of Oa and the Atlantic beyond.
4
Kilmeny Country House
Isle of Islay
Surrounded by farmland on the southernmost of the Inner Hebrides islands, this white-painted 19th-century house is owned by 'fabulous hosts' Margaret and Blair Rozga.
JOIN THE GHG CLUB
Get our free monthly newsletter, latest special offers, advice & competitions. Join more than 5,500 other members.
Read more about it here
BUY THE 2021 GUIDE
Buy the 2021 Guide to read reviews of all 750 hotels. Each printed copy of the Guide contains six 25% discount vouchers, worth in total about £150.
Buy the guide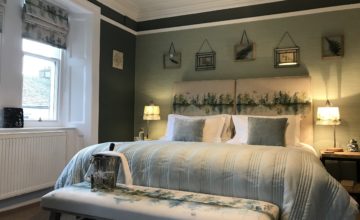 Win A Free Night for Two!
Win a prize of dinner, bed and breakfast for two at The Black Swan, Ravenstonedale, Cumbria, by SENDING A REVIEW of your favourite hotel or B&B in Britain or Ireland. See COMPETITION PAGE.
Submit a review