Hotels in Spain
1
Ca'n Reus
Fornalutx
In an attractive village, with cobbled streets and tiled rooftops, surrounded by orange and lemon groves, this 300-year-old house has been run since 2003 as a small rural hotel.
2
Ca's Xorc
Soller
'The food and setting were superb,' says a visitor to this former olive mill located in the Serra de Tramuntara mountains near Sóller and its 'Port'.
3
Hotel Can Boix
Peramola
Beautifully set among trees at the foot of the craggy Roca del Corb, the Pallarès family's smart, modern hotel is not far from the main Andorra to Lleida road.
4
Hospes Puerta Alcala
Madrid
This charming boutique hotel is located on the Plaza de la Independencia, and within walking distance of major sights such as the Prado Museum, Reina Sofia Museum and the Cybeles Fountain.
From £130 per night
5
Hotel Bonsol
Illetas
On a pine-covered hillside overlooking Palma bay, this large holiday hotel, with mock-Moorish tower, is managed by its owners, Lorraine and Martin Xamena and their son Alejandro.
6
Petit Hotel Ses Rotges
Cala Ratjada
In a village on the north-east tip of Mallorca, this much-admired restaurant-with-rooms is run by the 'delightful' French owner/chef, Gérard Tétard, with his wife, Laurence and their son William.
7
Hotel Aigua Blava
Begur
Built in the style of a Catalan village around the Fornells cove on a lovely stretch of the Costa Brava, this much-loved hotel ('well run, in a beautiful spot') was thought 'truly wonderful' by a regular Guide correspondent.
8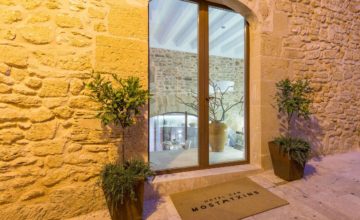 Hotel Can Mostatxins
Alcudia
Once a place for pressing olives, this luxurious little hotel is set in the walls of the Old Town.
Stylish hotels, farmhouses, B&Bs
Spain is probably most famous for its incredible beaches and sunshine, and its fiestas – some are world-famous, such as the Running of the Bulls in Pamplona, but every village and town has a number of events held throughout the year.
There's fascinating architecture that reflects the country's diversity, too – Moorish palaces and mosques in Andalucía, impressive cathedrals and churches throughout the country, and Gaudí's unique brand of Modernism in Barcelona.
The country is divided up into distinct regions, each with its own language and traditions, and the landscape is diverse – you'll fine snow-capped mountains, lush islands and arid plains, and small islands stretching almost to Africa.
Add to this the local people's friendliness and love for a party, and no wonder Spain is a perennially popular destination.
JOIN THE GHG
Get our free monthly newsletter, latest special offers, and updates. Join more than 14,000 other members.
Read more about it here
BUY THE 46th EDITION OF THE GUIDE
Buy the 46th Edition of the Guide to read reviews of 650 hotels.
Please note that the print edition no longer contains discount vouchers. 
Buy the guide