The New Year is a great time for a hotel break, whether you want a quiet celebration, and perhaps a walk in the countryside, or a gala dinner with champagne. Here you'll find our tips for the best New Year's Eve hotels in New Forest
Featured hotels with Special Offers
Hotels for New Years Eve in New Forest
1
Chewton Glen

- 3 Nights for the Price of 2 Special Offer
New Milton
There's a two night house party at the exceptional Chewton Glen complete with a five course dinner, wines and dancing with a black tie dress code.
2
Montagu Arms

- 'Escape to the Country' Special Offer
Beaulieu
Seeing in the New Year with an elegant ball, The Montagu Arms brings you Champagne and canapés followed by a five course black tie dinner.
More best New Years Eve hotels in New Forest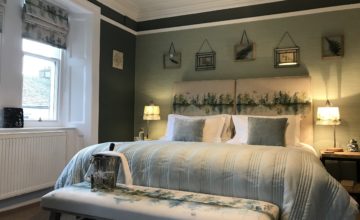 Win A Free Night for Two!
Win a prize of dinner, bed and breakfast for two at The Black Swan, Ravenstonedale, Cumbria, by SENDING A REVIEW of your favourite hotel or B&B in Britain or Ireland. See COMPETITION PAGE.
Submit a review
BUY THE 2021 GUIDE
Buy the 2021 Guide to read reviews of all 750 hotels. Each printed copy of the Guide contains six 25% discount vouchers, worth in total about £150.
Buy the guide
JOIN THE GHG CLUB
Get our free monthly newsletter, latest special offers, advice & competitions. Join more than 5,500 other members.
Read more about it here