Best family-friendly hotels in the UK
1
Congham Hall

- Winter Warmer Package Special Offer
King's Lynn
In summer, visitors buzz like contented bees around a garden of almost 400 herb varieties at Nicholas Dickinson's Georgian merchant's house-turned-hotel.
2
The Blakeney Hotel
Holt
On the quayside overlooking the estuary and salt marshes, in the luminous landscape of north Norfolk, Emma Stannard's 'lovely, comfortable', child-friendly hotel gets another thumbs-up from a trusted reader.
3
Porth Tocyn Hotel
Abersoch
'I would love to keep it to myself, but I thought I should share the good news.
4
The Colonsay
Isle of Colonsay
The island's only hotel is set on a hillside above the harbour, and has sweeping views across the bay to Jura.
5
Bedruthan Hotel and Spa
Mawgan Porth
There are grandparents who today cherish childhood memories of holidays at this family-friendly hotel.
6
Tresanton
St Mawes
Tumbling down cliffs overlooking Falmouth Bay, Olga Polizzi's glowing white Tresanton shows how to put style into a family-friendly seaside hotel – at a price.
7
Moonfleet Manor
Fleet
It's one long round of fun at this family-friendly hotel, centred on a Georgian manor house overlooking Chesil Beach and the Fleet Lagoon.
8
Fowey Hall
Fowey
There are lots of good things to report about this family-friendly spa hotel this year.
9
Augill Castle
Kirkby Stephen
With its towers and battlements, wood-panelled walls and ornate ceilings, this Victorian-folly castle set in acres of grounds still manages to be 'very relaxed; we never felt we had to be on our best behaviour'.
10
Calcot & Spa
Tetbury
'We had a wonderful family holiday here.
JOIN THE GHG CLUB
Get our free monthly newsletter, latest special offers, advice & competitions. Join more than 5,500 other members.
Read more about it here
BUY THE 2021 GUIDE
Buy the 2021 Guide to read reviews of all 750 hotels. Each printed copy of the Guide contains six 25% discount vouchers, worth in total about £150.
Buy the guide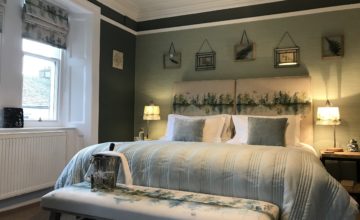 Win A Free Night for Two!
Win a prize of dinner, bed and breakfast for two at The Black Swan, Ravenstonedale, Cumbria, by SENDING A REVIEW of your favourite hotel or B&B in Britain or Ireland. See COMPETITION PAGE.
Submit a review