The New Year is a great time for a hotel break, whether you want a quiet celebration, and perhaps a walk in the countryside, or a gala dinner with champagne. Here you'll find our tips for the best New Year's Eve hotels in Midlands
Featured hotels with Special Offers
Hotels for New Years Eve in Midlands
1
The Lygon Arms

- Three Nights for the Price of Two Special Offer
Broadway
Join a New Year house party at The Lygon Arms with Champagne afternoon teas, wine, canapes, midnight bubbles and plenty of entertainment.
2
Hambleton Hall

- 40th Anniversary Weekday Stay Special Offer
Oakham
From the landscaped gardens with 'a five-star view' over Rutland Water to the Michelin-starred dining, Tim and Stefa Hart's acclaimed hotel nails English country house excellence.
3
The George of Stamford

- Sumptuous Sundays Special Offer
Stamford
Behind a Georgian facade, Lawrence Hoskins's rambling coaching inn, with beams, wood panelling and 'elegant period windows', embodies the remains of far older buildings.
From £195.00 per night
4
Lords of the Manor

- One Night Complimentary Special Offer
Upper Slaughter
Usher in the New Year in this magical setting complete with Cotswolf afternoon teas and a black tie gala.
5
The Peacock at Rowsley

- 25% Discount Offer
Rowsley
Experience a Peak District New Year in historic surroundings, and with exceptional service this year, at The Peacock at Rowsley.
6
Pen-y-Dyffryn

- Up to 25% Discount & Complimentary Afternoon Tea Special Offer
Oswestry
A morning newsletter lends a personal touch at the Hunter family's dog-friendly hotel in rolling countryside with views to the Welsh hills.
7
The Cavendish

- Four Nights for the Price of Three Special Offer
Baslow
Fine dining, dancing and plenty of sparkle is the tradition for New Year's Eve at the Cavendish!
8
Mallory Court

- 'Warwickshire Escape' Four Nights for the price of Three Special Offer
Leamington Spa
This Lutyens-style Arts and Crafts manor house with wood panelling and leaded windows presides over landscaped grounds, with lawns, ponds, rose and herb gardens.
9
Tudor Farmhouse

- Three Nights for the Price of Two Special Offer
Clearwell
'A hit! Just our kind of hotel,' say trusted reviewers of this 'small but luxurious' retreat set in 'ravishing countryside' in the Forest of Dean.
10
The Broadway Hotel

- Cotswold Midweek Offer: Four Nights for the Price of Three
Broadway
Celebrate the New year with the perfect combination of cosy country charm and classy contemporary elegance.
11
Old Downton Lodge

- Midweek Special Offer
Ludlow
Hidden away down a 'long winding track', Pippa and Willem Vlok's restaurant-with-rooms has a secluded, 'away from it all' feel.
12
The Cottage in the Wood

- Festive Season Special Offer
Malvern Wells
High in the Malvern hills, this refurbished Georgian dower house has 'stunning' views over the Severn valley.
13
The Swan

- Stay and Save (up to 25%) Special Offer
Bibury
Six course black tie dinners, Bloody Mary's, Bellinis, cocktails and canapés are all part of a New Year stay at The Swan.
14
Lion and Pheasant
Shrewsbury
Modern style and characterful original features merge at this centrally located 16th-century coaching inn with 'easy access to all parts of the city'.
More best New Years Eve hotels in Midlands
Hotels for New Years Eve in Midlands
Hotels not in the Guide that you may want to consider
Hotels for New Years Eve in Midlands
1
The Castle Hotel
Lincoln
On the site of the Roman Forum, this sleek Bailgate area hotel is 'superbly' located between cathedral and castle. Comfortable, compact bedrooms in the main building, modishly decorated in earthy hues, overlook the castle walls or have views of the medieval cathedral. Courtyard rooms are in the peaceful 250-year-old coach house, all conveniently on the ground floor, with parking just outside.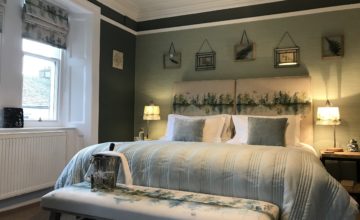 Win A Free Night for Two!
Win a prize of dinner, bed and breakfast for two at The Black Swan, Ravenstonedale, Cumbria, by SENDING A REVIEW of your favourite hotel or B&B in Britain or Ireland. See COMPETITION PAGE.
Submit a review
BUY THE 2021 GUIDE
Buy the 2021 Guide to read reviews of all 750 hotels. Each printed copy of the Guide contains six 25% discount vouchers, worth in total about £150.
Buy the guide
JOIN THE GHG CLUB
Get our free monthly newsletter, latest special offers, advice & competitions. Join more than 5,500 other members.
Read more about it here