Treat your loved one to a hotel break to celebrate Valentine's Day. Here's our pick of the best hotels in England for a truly romantic Valentine's experience.
Featured hotels with Special Offers
Hotels for Valentine's Day in England
1
Hartwell House

- £125 Per Person Per Night Flexible Special Offer
Aylesbury
Visitors this year were 'very happy with everything' at this former stately home set in landscaped gardens and parkland on the edge of the Chilterns.
From £200 per night
2
The Lygon Arms

- Three Nights for the Price of Two Special Offer
Broadway
An impressive list of famous guests, including both Charles I and Oliver Cromwell, have stayed at this rambling Tudor coaching inn with beams and inglenooks, panelled walls and leaded windows.
3
The Horn of Plenty

- 2 night Escape to the Country Special Offer – flexible cancellation
Tavistock
It's all about the views at this former 19th-century mine captain's house turned dog-friendly hotel on a hillside on the Devon/Cornwall border.
4
Lewtrenchard Manor

- Twixmas Break Special Offer
Okehampton
'A most beautiful building in lovely, peaceful grounds with a wooded walk down to the river,' say Guide insiders of the Murray family's splendid stone manor house.
5
Chewton Glen

- 3 Nights for the Price of 2 Special Offer
New Milton
Readers are 'unable to fault anything at all' at this ivy-clad country house hotel on the edge of the New Forest, 'the ultimate luxurious and indulgent treat'.
6
Star Castle

- Autumn full board Special Offer
St Mary's
The Francis family's charismatic hotel, with many historic features, continues to please regulars, mainly for its 'superb' hilltop location, genial service and tip-top seafood.
7
Middlethorpe Hall & Spa

- Four Nights for the Price of Three Special Offer
York
Overlooking the racecourse and surrounded by gardens and parkland, this gem of a William and Mary house with its 'stunning exterior' feels deeply rural yet is just over a mile from York.
8
The George of Stamford

- Sumptuous Sundays Special Offer
Stamford
Behind a Georgian facade, Lawrence Hoskins's rambling coaching inn, with beams, wood panelling and 'elegant period windows', embodies the remains of far older buildings.
From £195.00 per night
9
The Nare

- Four night Autumn Break Special Offer
Veryan-in-Roseland
'The Nare's description of itself as "the country house hotel by the sea" sums it up nicely.
10
Lords of the Manor

- One Night Complimentary Special Offer
Upper Slaughter
This 17th-century manor house of honeyed Cotswold stone looks every bit the smart country house hotel.
11
The Peacock at Rowsley

- 25% Discount Offer
Rowsley
Generations of glamorous aristocrats hang around this 17th-century manor house, gazing from gilded frames over what is today an exemplary hotel.
12
The Old Bridge

- 2 nights for the price of 1 100% Flexible Special Offer
Huntingdon
It's much easier to enjoy the 'exceptional wine list' and elegant interiors of this ivy-clad town house hotel, owned by a Master of Wine and an interior designer, now that Huntington's High Street has been pedestrianised, cutting down traffic noise.
13
Pen-y-Dyffryn

- Up to 25% Discount & Complimentary Afternoon Tea Special Offer
Oswestry
A morning newsletter lends a personal touch at the Hunter family's dog-friendly hotel in rolling countryside with views to the Welsh hills.
14
Judges

- 'Accommodation Special Rates' Special Offer
Yarm
Shrouded from the world by rolling gardens and wooded dells and with 'impeccably maintained grounds', this creeper-covered Victorian country house was once a retreat for circuit judges.
15
Stoberry House

- Four Nights for the Price of Three Special Offer
Wells
'Superbly positioned, with stunning views to the cathedral and the Somerset country beyond, Glastonbury Tor in the distance.
16
The Eastbury Hotel & Spa

- Perfect Getaway Special Offer
Sherborne
A 'lovely' walled garden gives a country house air to this small hotel in the heart of a historic market town.
17
Mallory Court

- 'Warwickshire Escape' Four Nights for the price of Three Special Offer
Leamington Spa
This Lutyens-style Arts and Crafts manor house with wood panelling and leaded windows presides over landscaped grounds, with lawns, ponds, rose and herb gardens.
18
Lindeth Fell

- 'Save over £100' Special Offer
Bowness-on-Windermere
With glorious views of Windermere and seven acres of spectacular grounds, this guest house feels more like a country house hotel, complete with wood panelling and ornate ceilings.
19
Woolley Grange

- Gourmet Two Night Break Special Offer
Bradford-on-Avon
Fun time, mucking-in time and adult 'me time' are all part of the deal at this rambling Jacobean manor turned child-friendly and dog-friendly hotel, with extensive grounds.
20
Congham Hall

- Winter Warmer Package Special Offer
King's Lynn
In summer, visitors buzz like contented bees around a garden of almost 400 herb varieties at Nicholas Dickinson's Georgian merchant's house-turned-hotel.
21
Montagu Arms

- 'Escape to the Country' Special Offer
Beaulieu
Perfectly placed to explore the New Forest, this Victorian Arts and Crafts inn, on the Beaulieu river near Lord Montagu's home, is a mix of cosy bolt-hole, luxury hotel and fine-dining restaurant, with a pub in a 1920s wing.
22
Tudor Farmhouse

- Three Nights for the Price of Two Special Offer
Clearwell
'A hit! Just our kind of hotel,' say trusted reviewers of this 'small but luxurious' retreat set in 'ravishing countryside' in the Forest of Dean.
23
The Traddock

- Winter Fireside Warmer Special Offer
Austwick
The high number of returning guests speaks volumes about the warm welcome, quiet luxury and generous comforts of this country house hotel, set amid glorious Dales walking country.
24
Cedar Manor

- 20% Discount Flexible Special Offer
Windermere
A 'beautifully intimate hotel', a five-minute drive from Windermere, Cedar Manor garners nothing but praise from readers for its luxurious bedrooms, thoughtful touches and spot-on service.
25
The Broadway Hotel

- Cotswold Midweek Offer: Four Nights for the Price of Three
Broadway
Golden stone abuts Tudor black-and-white at this historic hotel, which has a large terrace for alfresco dining overlooking a picture-postcard village green.
More best Valentine's Day hotels in England
Hotels for Valentine's Day in England
Hotels not in the Guide that you may want to consider
Hotels for Valentine's Day in England
1
The Castle Hotel
Lincoln
On the site of the Roman Forum, this sleek Bailgate area hotel is 'superbly' located between cathedral and castle. Comfortable, compact bedrooms in the main building, modishly decorated in earthy hues, overlook the castle walls or have views of the medieval cathedral. Courtyard rooms are in the peaceful 250-year-old coach house, all conveniently on the ground floor, with parking just outside.
2
The City Gate
Exeter
Abutting the Roman city walls, this style-savvy red brick old coaching inn (Young's Brewery) has a lively atmosphere. Inside, a host of interesting curios including a vintage sewing machine, a ship's masthead, and splashes of colour lend a quirky yet unpretentious vibe. Microbrewed drinks and traditional pub classics are served all day in the buzzy restaurant. In balmy weather, diners spill on to the large beer garden. 'Boutiquey' bedrooms are themed (water, wool, cotton).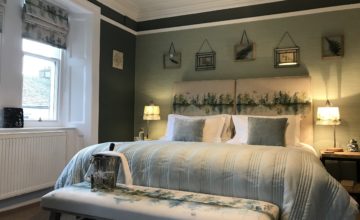 Win A Free Night for Two!
Win a prize of dinner, bed and breakfast for two at The Black Swan, Ravenstonedale, Cumbria, by SENDING A REVIEW of your favourite hotel or B&B in Britain or Ireland. See COMPETITION PAGE.
Submit a review
BUY THE 2021 GUIDE
Buy the 2021 Guide to read reviews of all 750 hotels. Each printed copy of the Guide contains six 25% discount vouchers, worth in total about £150.
Buy the guide
JOIN THE GHG CLUB
Get our free monthly newsletter, latest special offers, advice & competitions. Join more than 5,500 other members.
Read more about it here