The New Year is a great time for a hotel break, whether you want a quiet celebration, and perhaps a walk in the countryside, or a gala dinner with champagne. Here you'll find our tips for the best New Year's Eve hotels in England
Featured hotels with Special Offers
Hotels for New Years Eve in England
1
Hartwell House

- £125 Per Person Per Night Flexible Special Offer
Aylesbury
Visitors this year were 'very happy with everything' at this former stately home set in landscaped gardens and parkland on the edge of the Chilterns.
From £200 per night
2
The Lygon Arms

- Three Nights for the Price of Two Special Offer
Broadway
Join a New Year house party at The Lygon Arms with Champagne afternoon teas, wine, canapes, midnight bubbles and plenty of entertainment.
3
The Horn of Plenty

- 2 night Escape to the Country Special Offer – flexible cancellation
Tavistock
It's all about the views at this former 19th-century mine captain's house turned dog-friendly hotel on a hillside on the Devon/Cornwall border.
4
Hambleton Hall

- 40th Anniversary Weekday Stay Special Offer
Oakham
From the landscaped gardens with 'a five-star view' over Rutland Water to the Michelin-starred dining, Tim and Stefa Hart's acclaimed hotel nails English country house excellence.
5
Lewtrenchard Manor

- Twixmas Break Special Offer
Okehampton
'A most beautiful building in lovely, peaceful grounds with a wooded walk down to the river,' say Guide insiders of the Murray family's splendid stone manor house.
6
Chewton Glen

- 3 Nights for the Price of 2 Special Offer
New Milton
There's a two night house party at the exceptional Chewton Glen complete with a five course dinner, wines and dancing with a black tie dress code.
7
The Rose & Crown

- Autumn Escape Special Offer from £95 per person per night
Barnard Castle
'I would love to keep this place secret – but that would be selfish.
8
Star Castle

- Autumn full board Special Offer
St Mary's
The Francis family's charismatic hotel, with many historic features, continues to please regulars, mainly for its 'superb' hilltop location, genial service and tip-top seafood.
9
Middlethorpe Hall & Spa

- Four Nights for the Price of Three Special Offer
York
Afternoon teas on arrival, use of the spa, dress up for dinner and celebrate in country house style this New Year's Eve.
10
The George of Stamford

- Sumptuous Sundays Special Offer
Stamford
Behind a Georgian facade, Lawrence Hoskins's rambling coaching inn, with beams, wood panelling and 'elegant period windows', embodies the remains of far older buildings.
From £195.00 per night
11
The Nare

- Four night Autumn Break Special Offer
Veryan-in-Roseland
'The Nare's description of itself as "the country house hotel by the sea" sums it up nicely.
12
Lords of the Manor

- One Night Complimentary Special Offer
Upper Slaughter
Usher in the New Year in this magical setting complete with Cotswolf afternoon teas and a black tie gala.
13
The Peacock at Rowsley

- 25% Discount Offer
Rowsley
Experience a Peak District New Year in historic surroundings, and with exceptional service this year, at The Peacock at Rowsley.
14
The Old Bridge

- 2 nights for the price of 1 100% Flexible Special Offer
Huntingdon
It's much easier to enjoy the 'exceptional wine list' and elegant interiors of this ivy-clad town house hotel, owned by a Master of Wine and an interior designer, now that Huntington's High Street has been pedestrianised, cutting down traffic noise.
15
Pen-y-Dyffryn

- Up to 25% Discount & Complimentary Afternoon Tea Special Offer
Oswestry
A morning newsletter lends a personal touch at the Hunter family's dog-friendly hotel in rolling countryside with views to the Welsh hills.
16
Judges

- 'Accommodation Special Rates' Special Offer
Yarm
Shrouded from the world by rolling gardens and wooded dells and with 'impeccably maintained grounds', this creeper-covered Victorian country house was once a retreat for circuit judges.
17
The Dial House

- Three nights for the price of Two Special Offer
Norwich
Beautiful dining experiences, canapés on arrival and spectacularly beautiful surroundings await you on New Year's Eve.
18
The Eastbury Hotel & Spa

- Perfect Getaway Special Offer
Sherborne
A 'lovely' walled garden gives a country house air to this small hotel in the heart of a historic market town.
19
Headlam Hall

- Autumn Gold Special Offer from £85 per person per night
Darlington
This country hotel ticks all the boxes – historic building, beautiful gardens, smart bedrooms, relaxed dining, spa and pool – while retaining a homely feel.
20
Cuckoo Brow Inn

- Three Night 15% Discount Special Offer
Ambleside
The views stretch over lakeland countryside from this unpretentious 18th-century inn, atop a hill in a pretty village between Lake Windermere and Hawkshead.
21
The Goring

- Three Nights for Two Special Offer
London
A long-time favourite of its royal neighbours, this Belgravia grand dame is 'charmingly old-school', with red-liveried footmen, Michelin-starred restaurant, and one of the largest private gardens in London.
22
Rothay Manor

- Stay and Save Special Offer
Ambleside
Jamie and Jenna Shail's manor house hotel dates to 1823, but its tastefully refreshed style and ambitious cooking place it squarely in the 21st century.
23
The Cavendish

- Four Nights for the Price of Three Special Offer
Baslow
Fine dining, dancing and plenty of sparkle is the tradition for New Year's Eve at the Cavendish!
24
Mallory Court

- 'Warwickshire Escape' Four Nights for the price of Three Special Offer
Leamington Spa
This Lutyens-style Arts and Crafts manor house with wood panelling and leaded windows presides over landscaped grounds, with lawns, ponds, rose and herb gardens.
25
Lindeth Fell

- 'Save over £100' Special Offer
Bowness-on-Windermere
With glorious views of Windermere and seven acres of spectacular grounds, this guest house feels more like a country house hotel, complete with wood panelling and ornate ceilings.
More best New Years Eve hotels in England
Hotels for New Years Eve in England
Hotels not in the Guide that you may want to consider
Hotels for New Years Eve in England
1
The Castle Hotel
Lincoln
On the site of the Roman Forum, this sleek Bailgate area hotel is 'superbly' located between cathedral and castle. Comfortable, compact bedrooms in the main building, modishly decorated in earthy hues, overlook the castle walls or have views of the medieval cathedral. Courtyard rooms are in the peaceful 250-year-old coach house, all conveniently on the ground floor, with parking just outside.
2
The City Gate
Exeter
Abutting the Roman city walls, this style-savvy red brick old coaching inn (Young's Brewery) has a lively atmosphere. Inside, a host of interesting curios including a vintage sewing machine, a ship's masthead, and splashes of colour lend a quirky yet unpretentious vibe. Microbrewed drinks and traditional pub classics are served all day in the buzzy restaurant. In balmy weather, diners spill on to the large beer garden. 'Boutiquey' bedrooms are themed (water, wool, cotton).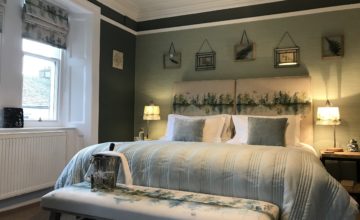 Win A Free Night for Two!
Win a prize of dinner, bed and breakfast for two at The Black Swan, Ravenstonedale, Cumbria, by SENDING A REVIEW of your favourite hotel or B&B in Britain or Ireland. See COMPETITION PAGE.
Submit a review
BUY THE 2021 GUIDE
Buy the 2021 Guide to read reviews of all 750 hotels. Each printed copy of the Guide contains six 25% discount vouchers, worth in total about £150.
Buy the guide
JOIN THE GHG CLUB
Get our free monthly newsletter, latest special offers, advice & competitions. Join more than 5,500 other members.
Read more about it here