Featured hotels with Special Offers
Family friendly hotels for Christmas
1
The Lygon Arms

- Three Nights for the Price of Two Special Offer
Broadway
A coaching inn dating back to the 1300s, The Lygon Arms is all about log fires, vaulted ceilings and ancient wood panelling - perfect for Christmas!
2
The Horn of Plenty

- 2 night Escape to the Country Special Offer – flexible cancellation
Tavistock
When guests return from days exploring art galleries and nature trails, they can nestle in with dog in tow for superb meals, a well stocked library and, always, a toasty log fire at Christmas.
3
Hambleton Hall

- 40th Anniversary Weekday Stay Special Offer
Oakham
With log fires and spectacular Christmas trees, this magical country house hotel is perfect for Christmas and New Year.
4
Lewtrenchard Manor

- Twixmas Break Special Offer
Okehampton
Christmas at Lewtrenchard Manor offers a sumptuous gateway into superb food, relaxation and entertainment.
5
Chewton Glen

- 3 Nights for the Price of 2 Special Offer
New Milton
Be warned: you'll raise children's expectations sky high by taking them to this super-luxury hotel. Will anything ever match sleeping in a Treehouse suite with hot tub, 35 feet above ground? Or fun and games in the new fairytale children's club?
6
Star Castle

- Autumn full board Special Offer
St Mary's
Now here is the real thing, an Elizabethan stone house within star-shaped fortress walls. Tim the boatman offers sea trips. You can swim in the indoor pool, play tennis, go horse riding, hire an electric Scilly Cart or take afternoon tea on the ramparts.
7
The George of Stamford

- Sumptuous Sundays Special Offer
Stamford
Festive parties and sumptuous food and drink abound at this 17th century historic house with breathtaking sea views at Christmas.
From £195.00 per night
8
The Nare

- Four night Autumn Break Special Offer
Veryan-in-Roseland
A great place for three-generation family holidays; adults are cosseted by immaculate service and comfort, while children are kept busy with lovely Carne beach, swimming pools, tennis and family painting sessions with a resident artist.
9
Lords of the Manor

- One Night Complimentary Special Offer
Upper Slaughter
A Cotswold Christmas would not be complete without the perfect country house to spend it in.
10
The Old Bridge

- 2 nights for the price of 1 100% Flexible Special Offer
Huntingdon
The ivy clad 18th century townhouse hotel is all about festive parties and convivial celebrations at Christmas.
11
Judges

- 'Accommodation Special Rates' Special Offer
Yarm
Sumptuous dinners and Christmas fairs are just some of the features at this beautiful hotel in December. If you're lucky, you might even get a white Christmas!
12
Blackaddie House

- Two Night Signature Tasting Menu Getaway Special Offer
Sanquhar
The River Nith ripples past the garden of Jane and Ian McAndrew's old manse and gastronomic destination, in a rolling landscape with views to the Lowther hills.
13
The Dial House

- Three nights for the price of Two Special Offer
Norwich
From hampers to wreath masterclasses, Christmas at the Dial House is as stylish as you would expect from this charming hotel.
14
The Eastbury Hotel & Spa

- Perfect Getaway Special Offer
Sherborne
Fun, food and relaxation await at The Eastbury on a Christmas festive break.
15
Cuckoo Brow Inn

- Three Night 15% Discount Special Offer
Ambleside
From sumptuous breakfasts to five course Christmas Day lunches, the festive season at Cuckoo Brow inn is a treat.
16
The Dunstane Houses

- 'Ghouls and Glamping' Special Offer
Edinburgh
This luxury boutique hotel is a magical place at any time of year, but at Christmas The Dunstane Houses takes on all the charm of this historic city.
17
The Goring

- Three Nights for Two Special Offer
London
Its family roots and boutique size give The Goring the sense of visiting a superbly enriching home, and as such it has a real intimacy to it that's perfect for a cosy Christmas escape.
18
Rothay Manor

- Stay and Save Special Offer
Ambleside
The streets of Ambleside are illuminated with Christmas Lights and the aroma of coal fires fill the air as you arrive at this blissful hotel.
19
The Cavendish

- Four Nights for the Price of Three Special Offer
Baslow
The Cavendish marries a sense of grandeur with the warm welcome of a boutique hotel. Exquisite food is the order of the day, while luxurious furnishings add a sense of plush decadence as well.
20
Mallory Court

- 'Warwickshire Escape' Four Nights for the price of Three Special Offer
Leamington Spa
Mallory Court is a four-star hotel and a member of the Relais and Châteaux group, which means you know when you visit you're in for a superb treat, especially when it comes to food at Christmas.
21
Woolley Grange

- Gourmet Two Night Break Special Offer
Bradford-on-Avon
One of the first country house hotels to welcome families, this mellow Wiltshire manor continues to delight all ages. Extensive grounds contain a grass maze and play garden with tractor; indoors, there's a crèche, games room, pool and spa.
22
Congham Hall

- Winter Warmer Package Special Offer
King's Lynn
From spa treatments to exceptional food, Christmas at Congham Hall is always luxurious.
23
Gliffaes

- Three Night Autumn Break Special Offer
Crickhowell
A traditional hotel that excels at a traditional Christmas, Gliffaes brings bountiful Welsh charm to the festive season, with an 18ft tree dominating the hall and lots of carol singing on Christmas Eve.
24
Montagu Arms

- 'Escape to the Country' Special Offer
Beaulieu
Treat the family to exquisite festive dining or country pub comforts at the Montagu Arms Hotel in The New Forest.
25
The Atlantic Hotel

- Free Dinner Offer
St Brelade
It's all about the seaside at this luxury hotel designed to resemble a 1930s ocean liner, where readers this year had a 'wonderful, relaxing stay'.
The UK has a variety of family friendly hotels for Christmas…
More dog friendly pubs with rooms
Family friendly hotels for Christmas
Hotels not in the Guide that you may want to consider
Family friendly hotels for Christmas
1
The Castle Hotel
Lincoln
On the site of the Roman Forum, this sleek Bailgate area hotel is 'superbly' located between cathedral and castle. Comfortable, compact bedrooms in the main building, modishly decorated in earthy hues, overlook the castle walls or have views of the medieval cathedral. Courtyard rooms are in the peaceful 250-year-old coach house, all conveniently on the ground floor, with parking just outside.
2
The City Gate
Exeter
Abutting the Roman city walls, this style-savvy red brick old coaching inn (Young's Brewery) has a lively atmosphere. Inside, a host of interesting curios including a vintage sewing machine, a ship's masthead, and splashes of colour lend a quirky yet unpretentious vibe. Microbrewed drinks and traditional pub classics are served all day in the buzzy restaurant. In balmy weather, diners spill on to the large beer garden. 'Boutiquey' bedrooms are themed (water, wool, cotton).
Christmas is an intrinsically family oriented time of the year, and there's something even more magical about it when seen through the eyes of children. Allowing you to make the most of all the joy without the hassle of cooking and clearing up afterwards, many prefer the luxury of a hotel getaway, but for it to feel truly festive it has to be the right place. When choosing family friendly hotels for Christmas, we looked for the destinations that really brought the festive season to life to children as well as parents. Naturally, that means wonderful food, but also mesmerising locations, plenty for children to see and do, space to get outside and the opportunity to enjoy a convivial environment but also time for yourself as a family as well. So from spa treatments to treehouse suites, swimming pools to sumptuous dinners, here are our favourite family friendly hotels for Christmas.
JOIN THE GHG CLUB
Get our free monthly newsletter, latest special offers, advice & competitions. Join more than 5,500 other members.
Read more about it here
BUY THE 2021 GUIDE
Buy the 2021 Guide to read reviews of all 750 hotels. Each printed copy of the Guide contains six 25% discount vouchers, worth in total about £150.
Buy the guide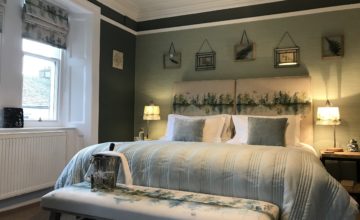 Win A Free Night for Two!
Win a prize of dinner, bed and breakfast for two at The Black Swan, Ravenstonedale, Cumbria, by SENDING A REVIEW of your favourite hotel or B&B in Britain or Ireland. See COMPETITION PAGE.
Submit a review